VOTE #1 YEPPOON – QLD's Top Tourism Town
It's that place, that moment…when happiness and contentment begin to swoon. Where you can discover absolute surprise and magic over the peak of every sand dune.

It's that sound of summer, and sub-tropical vibe smoothly echoing through a live local tune. Where home grown tucker is best discovered from your hands, not a spoon.

A spot where exhilarating adventure flips you head-first into the wide-open sea of opportune. Where, with a cocktail and good company a sunset elegantly dances across your afternoon.

It's a cultural celebration of where the waters meet, the sandy toes and salty kisses that are felt in June. Where playgrounds, wildlife parks and street art, allude to the refreshing welcome of an iconic lagoon.

It's the comfort and feeling of being back home…as indulgent siestas meet the stroke of noon. Where paddock to plate, ocean to earth pave way to a rewarding catch from a nearby pontoon.

When kilometres of endless shorelines at the days end wave warm and hearty welcome to the moon. It's the people, the lifestyle, and awe-inspiring wonders.

This is Yeppoon… See you soon!

Cheers,
Jeremy Marou (Busby Marou)

Vote now for your favourite town! https://bit.ly/3kEWVp1
---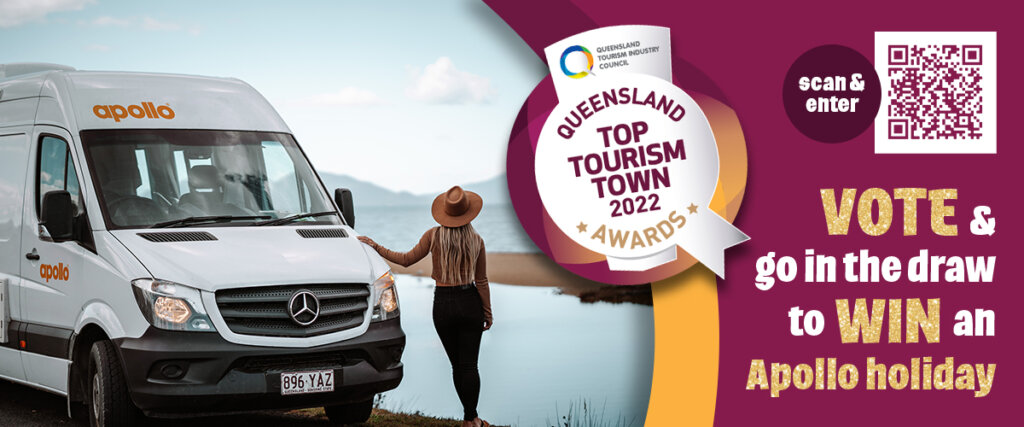 Yeppoon is a town that is exciting, diverse, and breathtakingly beautiful. Alive and bustling with a cosmopolitan allure yet laced with a majestic sense of harmony and calmness. An untouched wonderland that invites you to embrace the sun, sea, sand and uncover a distinctive, unforgettable adventure that is perfect for you and your family.
Nestled within a system of 13 beaches across 95 kilometres of Capricorn coastline, Yeppoon boasts a shared latitude with Rio de Janeiro to the East and Mauritius to the West, celebrating sub-tropical climates and year-round swimming.
Easily accessible by road, rail, coach and air, Yeppoon is only an additional 30-minute drive from the beef capital of Australia, Rockhampton and only 600 kilometres from Queensland's capital, Brisbane.
Surrounded by jaw-dropping and glittering shorelines, golden days, balmy moonlit evenings, sensational crimson sunsets and scents of the tropic, this unique paradise is your stepping-stone to the wonders of the Southern Great Barrier Reef or rainforests of Byfield National Park.
Yeppoon's charming waterfront esplanade in the heart of town boasts a renowned public infinity edge lagoon and a state-of-the-art zero depth water play area, together with walking paths, playgrounds, BBQ and picnic areas.
As the Keppel Bay waters gently lap the sand of Yeppoon Main Beach, the enchanting, 'close enough to touch' vistas of the horizon will encourage your dream of snorkelling, diving, or sailing your way around pristine fringing coral reefs of Great Keppel and neighbouring islands, which are effortlessly accessible via a 30-minute ferry ride.
Turn your focus back to the mainland, and you will discover urban street art offering unpredictable surprises around the most unlikely of corners, determined to turn your days from good to great with a speckle of colour, humour and fun.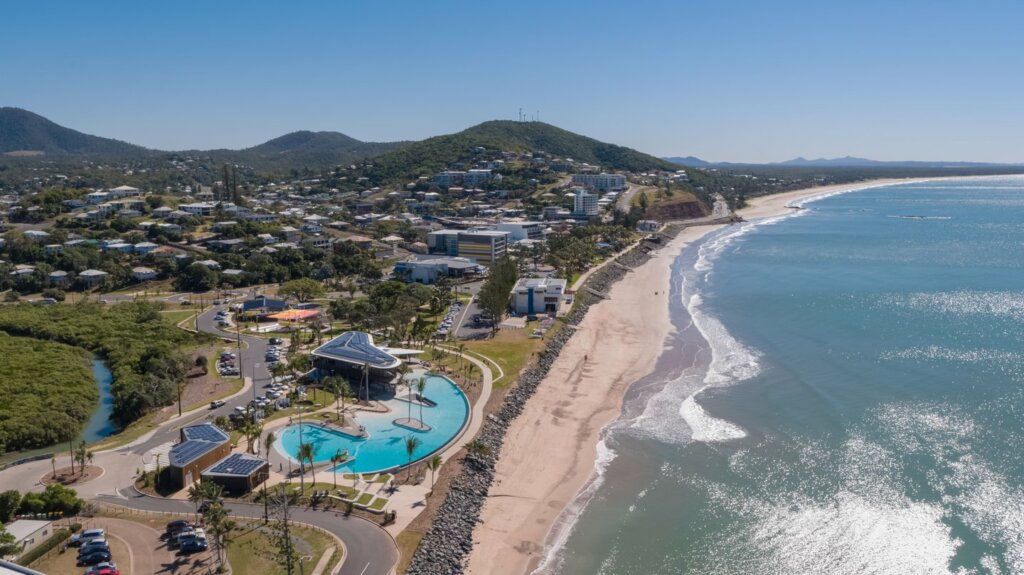 A magnitude of cafes and restaurants line the main streets, providing a diversity of cuisine from an array of cultures, while accommodation options to suit a range of requirements stand proudly throughout town, offering the finest panoramic 'front deck' viewpoints.
A paddock to plate initiative, Taste Capricorn Coast, encompasses many restaurants and farmers within Yeppoon, as a plethora of fresh, local produce makes its' mark across the destination.
From fourth generation pineapple farms to fifth generation award winning beef, together with fresh seafood, crocodile and numerous delicacies including locally made moringa pasta, the purest water and fine crafted beer, Yeppoon, together with the villages dotted along the coastline and inland rainforests have decades of stories to tell and are brimming with diverse flavours and mouth-watering adventures.
Unique and award-winning attractions such as the Capricorn Caves, Koorana Crocodile Farm, Cooberrie Park Wildlife Sanctuary, and the spectacular ANZAC Memorial at Emu Park are only a short journey from the town of Yeppoon, making it an ideal base for your daily experiences.
Yeppoon is a destination for all seasons, priding itself on sustainability and community development. With an active, innovative, and passionate leadership team of proud locals, the Capricorn Coast, encompassing the town of Yeppoon is continually advancing to diversify its offerings through enhanced infrastructure, a thriving calendar of events, contemporary entertainment, and family friendly activities.
Recognising the critical importance of arts and cultural activities reflecting national and local heritage and background, Yeppoon celebrates different identities and social multiplicity, reflected within the warm welcome provided by the people who call it home.
We invite you to come and discover a must-see destination that ticks all the boxes including sandy toes, salty kisses, eye-appealing scenery, and exciting tours and attractions, and start at the Capricorn Coast Visitor Information Centre to see where your adventure takes you.