5 reasons to add Byfield to your Queensland bucket list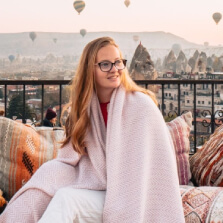 Written By: Finding Alexx
About the author:
My name is Alexx, I'm a 29-year-old solo female traveller, blogger and photographer, and I'm the one behind the keyboard and the lens here at Finding Alexx and at @findingalexx on Instagram. I'm obsessed with discovering epic experiences all around the globe, and my life's mission is to help other travellers explore confidently, responsibly and safely, all while having the absolute time of their lives.
During my 2.5 months in Australia I was lucky enough to visit loads of incredible spots, from major tourist destinations right through to little-known hidden gems, but the hidden gem that absolutely takes the cake is Byfield on the Capricorn Coast. This place is pure paradise!
I have to admit that most of my Queensland knowledge focused on Cairns and the Whitsundays, I didn't know much at all about the smaller coastal towns that sit alongside the Southern Great Barrier Reef, and I knew even less about any of the inland adventures on offer.
But after spending just a couple of days exploring Byfield's swimming holes, meeting some locals and enjoying the serenity, I know for sure that I need to come back for longer next time. Here's why I think Byfield needs to be on every Queensland road trip itinerary!
Read more – 5 reasons to add Byfield to your Queensland bucket list – Finding Alexx