One Hot Night 2019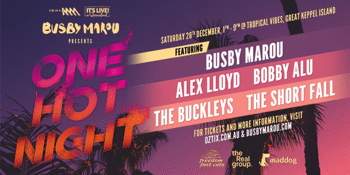 ONE HOT NIGHT
kicked off the inaugural event in December 2017 and Busby Marou are stoked to be doing it again this year with a twist.
BUSBY MAROU
has put together a line up featuring friends and well-respected musicians alike.
ONE HOT NIGHT
is a licensed, all-ages event to be held on the magnificent Great Keppel Island at Tropical Vibes on Saturday 28 December 2019.
Ticketing option includes return ferry transfer with Freedom Fast Cats from Rosslynn Bay, Yeppoon.
Ferry Transfer from Rosslynn Bay to GKI: 12:00PM
Ferry transfer from GKI to Rosslynn Bay: 9:00PM
For more event information please visit
www.onehotnightrocky.com.au
Early Bird/Pre-Sale on sale from 9am Friday 18th October 2019
General Admission on sale from 9am Monday 21st October 2019
Location
Event Details
Location
The, Lot 70 Esplanade, The Keppels QLD 4700, Australia
Get Directions
Time(s)
12:30 PM
Event Date(s)
Saturday 28 December, 2019